02/13/2018 / By Derek Henry
---
If there was ever a time to make sure we are on top of our immunity, it would be winter. This season challenges our body in so many ways with the colder temperatures, lack of sun, more time indoors, and excessive eating and stress.
Since it can be hard during this season to stay on top of your health, optimizing at least one of your meals in the day for immunity will give your a chance to get through the season relatively (if not completely) unscathed. The quickest and most efficient way that can be done through food preparation is by making a Supercharged Immunity Smoothie every day.
Infused with immunity support such as a nutrient dense foods, medicinal mushrooms, turmeric, and vitamin C, this smoothie is as powerful as it is tasty. To give you an idea of how good it is, this is the type of drink they would serve on a tropical vacation, only this one has far more health benefits.
This smoothie rarely disappoints.
Supercharged Immunity Smoothie
Ingredients
Directions
Add all ingredients to blender in order listed, and blend until smooth.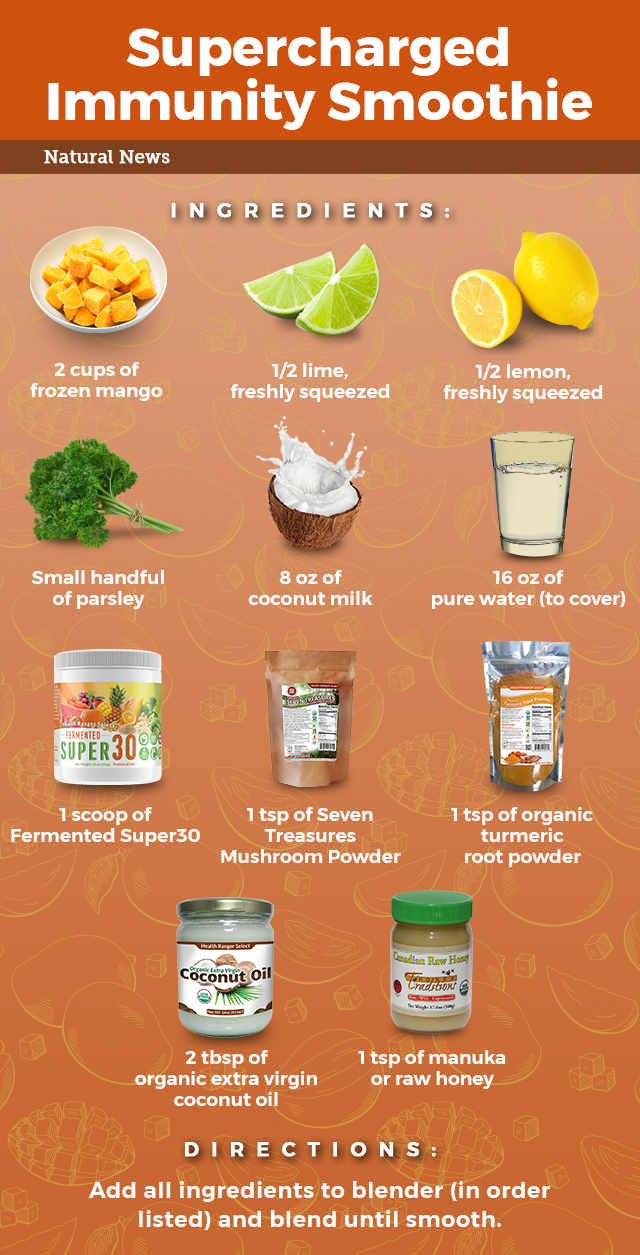 These ingredients were put together this way to create a very synergistic blend of nutrients to support immunity, and to create a delicious tropical-tasting smoothie. The two most powerful ingredients in this smoothie for immunity are the Health Ranger's Fermented Super30 and Seven Treasures Mushroom Powder.
Enjoy your mini-vacation!
For more information on nutrient-dense superfoods, visit Superfoods.news.
Sources include:
Submit a correction >>